GARDEN IDEAS IN/FOR FLORIDA
---
Kitchen garden, edible garden, vegetable garden, potager or herb garden – whatever you call it – you're lucky if you can have one. Made mostly for the purpose of having an own source of fresh vegetable, can be a real jewel of the whole garden. There are thousands of way to think it. The first prerequisite to think about is – the enclosure. Classic, modern, rustic, in stone, brick, wood or metal - the choice is limitless.












Pictures source Pinterest
---
My favorite pastime when I was young was reading. Or rather I dare say I ought to call it an impelling passion or a drug. I devoured books at every moment of the day, and often at night, too, hiding under the blankets with a pocket torch.

My grandmother's house where I grew up was full of books and magazines. They were in every room, even in the kitchen. And today that's the way my house is – with books strewn all over the place. I take them with me from one house to another. Whenever I move house the first thing I do is to choose what is or is not worthwhile taking with me. Some books I have carried around with me for 30 years. And I will go on doing so. By now they are part of my life.
Among my favorite books – which unfortunately went astray in one of my moves – is "The Secret Garden" by Frances Hodgson Burnett. That garden bounded by a high wall from behind which the only things to be seen were the treetops, the rusty old key found by chance, the tangle of branches concealing the entrance, all giving a sense of mystery. And then, once inside it – a riot of spring flowers and greenery – a discovery, a promise, a rebirth.
What is so special about a secret garden?
To me it has always represented the ideal image of a garden. A place hemmed in by high walls, protected against the outside and safe, where nature is in its best setting, in a distillation of all the best things it has to offer us – an enjoyment of all the senses. A place in which to look after yourself, and through it to heal yourself (a concept that is today well known and is applied in what are called "healing gardens").

An entrance to a garden is always a promise........ (picture from Whimsical Raindrop Cottage)
But obviously I am not the only one fascinated by the secret garden. If we consider the history of mankind, a garden has always been a place close off and separate from the outside. And this whatever the culture or the country – whether the gardens of ancient Egypt or of Persia, of ancient Rome or those of the Middle Ages. A place of perfection that represents paradise lost. And the Greek word παράδεισος (parádeisos) was used to describe "a garden/place bounded by walls".
And even if at times the garden was in some way connected with the surrounding countryside, this connection was only visual. It was possible to see the countryside and nature, but they were not allowed to enter the garden. Through the centuries the garden has been a contrast to nature, often regarded as some adverse, mysterious entity. A garden was a sacred place, where man protected what was precious (the first gardens were dedicated to the production of food and medicinal herbs) and where he could understand and handle nature. Weeds, animals, or any sort of natural adversity were not admitted there. The garden was the place of delights and of things sacred. The mirror of paradise lost which man has for centuries sought to create afresh.
Nowadays private gardens or - more often - simple courtyards continue being private secluded and sacret oases.

Madeleine Loft Apartment, Paris by Atelier Michael Herman

A courtyard at the El-fenn Hotel in Marrakesh

Project of a more classic courtyard by Graham Landscape Architecture

Green urban oasis by Rees Roberts + Partners

Image from the gallery of small gardens in Australian House&Garden

A modern courtyard at Casa Lola Hotel (picure from AD Spain)

And again stunning internal courtyards at Riad el-Fenn (picture from Sips and Spoonfuls)

Small and beautiful this mini garden in Manhattan. Designers: Anne Fairfax and Richard Sammons

Another courtyard at the El-fenn Hotel in Marrakesh

Casbah Cove - a Moroccan riad-style courtyard in California
---
Would you like to have a classic, formal garden with geometric low parterres, trellises, caisse de Versaille with a tree, clipped round shrubs and so on? It's not so difficult unless you're the one obsessed with native plants. Especially if you live in South Florida. Nothing here resembles French vegetation. But, as for any problem, there is always a solution. With some compromise of course. You just can't demand to have climbing roses or lilac lavender because in Florida we don't have them native. But there are many other natives perfectly suitable. Here an example. For any doubt or question - contact our office and we will provide you all information you need.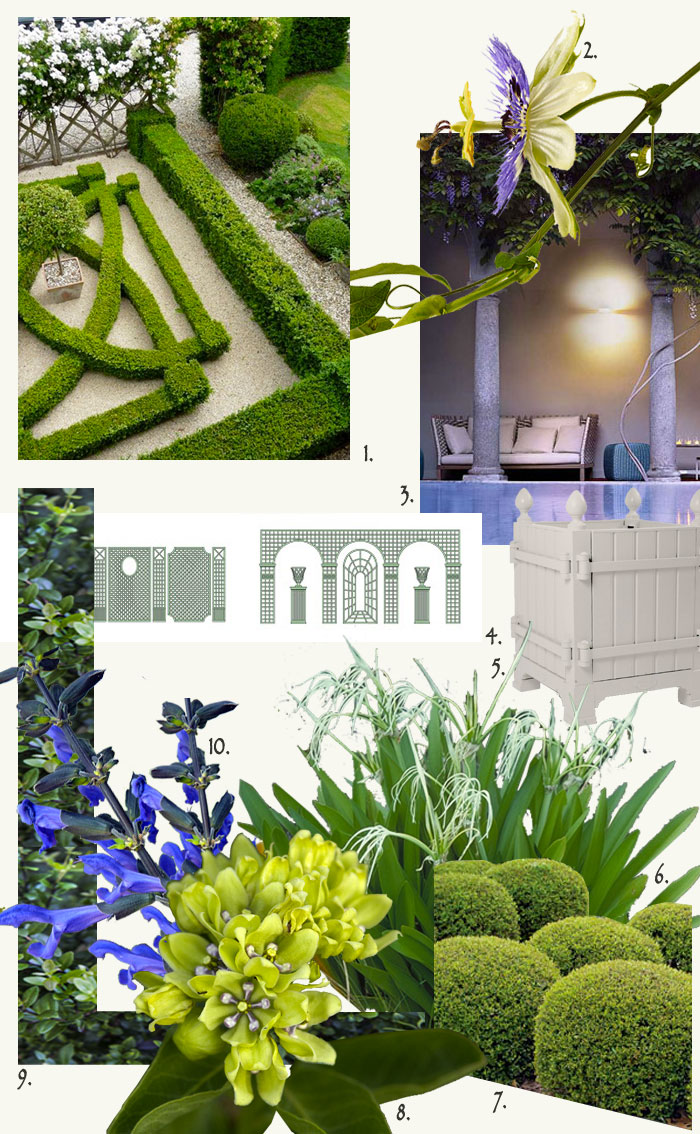 1. Steven Kelvin garden project
2. Passionflower vine (Passiflora incarnata), native to North America with th elargest concentration from Virginia to Florida. It's a perennial, herbaceous vine, drought tollerant but with low salt tollerance (so don't plant it too close to the coast).
3. A modern "classic" forniture for outdoors with brio by Paola Lenti
4. French stile trellisses by Accents of France, California
5. A classic caisse de Versaille. In different collors can be found at Authentic Provence in West Palm Beach, Florida.
6. Hymenocallis latifolia (Spider lilly), another native plant to Florida with exeptional snow-white flowers. This clumping herbaceous perennial makes a beautiful contrast of texture and shape with clipped parterre hedges (9) and round clipped shrubs (7)
7. Ilex vomitoria "Nana" (dwarf yaupon holly), its symmetrical, dense and naturally rounded shape requires only infrequent pruning. When needed bigger rounded shrubs, could be used a simple Cocoplum (Chrysobalanus icaco) - the one with green tips.
8. Asclepias viridis (Green milkweed). Sometimes it can be not easy to find a nursiery selling native plants in South Florida, but in this case can be helpful visiting web-sites of FNPS or FANN
9. Myrcianthes fragrans (Simpson's stopper), a native perfect for clipped hedges.
10. Salvia Spp. (Sage), red or blue - any of them will make a nice texture contrast and provide a splash of solor. A good substitute of the lavender.
---
* Coastal scrub

Scrub is a natural community consisting of a fairly dense, low stand of evergreen shrubs, with or without a pine canopy, and is found only in Florida and adjacent Alabama and Mississippi. It develops on low dunes paralleling the coast. Typical plant communities include xerophytic plants. The substrate is typically sand or a sand-shell mix.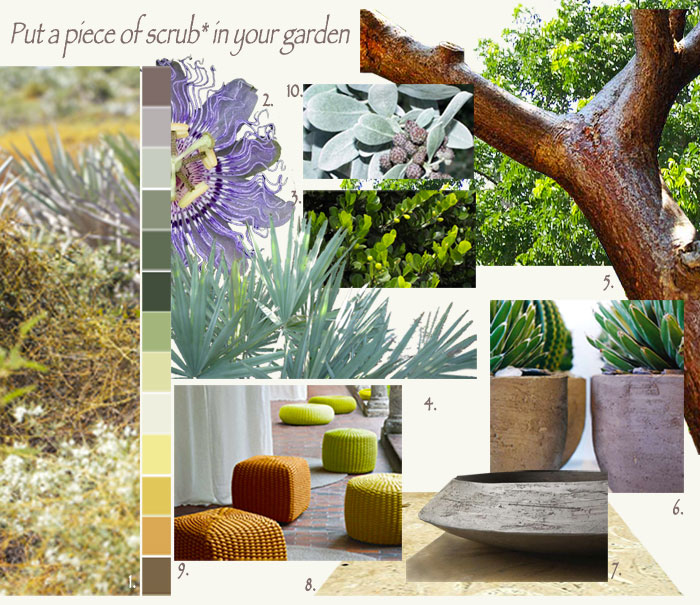 1. Picture of an example of a coastal scrub in South Florida - Jupiter Ridge Natural Area
2. Passiflora incarnata (Purple passionflower) - a vine native to Florida
3.Chrysobalanus icaco (Cocoplum) - a shrub native to Florida
4. Serenoa repens (Silver saw palmetto) - a native plant to Florida
5. Bursera simaruba (Gumbo limbo) - a tree native to Florida
6/7 Pots by Atelier Vierkant
8. Coquina paving
9. Outdoor furniture by Paola Lenti
!0. Conocarpus erectus var.sericeus (Silver buttonwood) - another native to Florida (shrub or small tree)